The counselor also described four universal and cross- cultural healing methods (Arrien, 1993): song, dance, story-telling and silence (as with prayer and meditation) and asked each group member to demonstrate and or share a story, poem and/or prayer, as an expression of feelings or new learning. Everyone was invited (but not forced) to share. Survivors were asked how they feel (in the 'here and now') and what they have learned about themselves and the human condition after all our sharing.

The session would close with a final review: description of what one has learned, what worked best for them, how one will apply this learning (as 'cognitive-behavioral homework').

They are then invited to become "leaders – to lead by example."

The final round of sharing is based on responding to the questions "name one thing you learned that you can share with others that may help others heal. . ."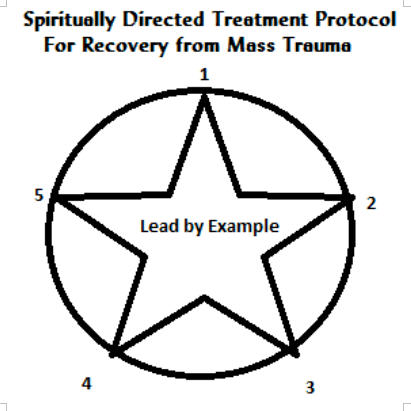 1.

CONNECT

(with sacred, Self, then connect with Others) Use breath work, energy work, intention and intuition to balance spirit, heart, mind and body.

2.

OBSERVE

(and assess) Experiences of shock, crisis, grief/mourning, insight/resilience in self and others

3.

LISTEN

with the ears of your heart. Share stories and encourage authentic expression of self and others

4.

TRAIN

to engage creativity and intuition to gain insight, value, meaning / healing

5.

EMPOWER

self and others to lead by example. Practice and share new learnings.

(Spiritually Directed Therapy Protocol, Hedva, 2006)



I was especially inspired by the survivors I worked with in their ability to easily access and express expanded spiritual states of consciousness even in the midst of the crisis phase of the trauma. A desire to help others, and share both painful feelings as well as states of joy and peace inspired through story-telling, singing, dance and prayer, all indicated to me how very important it is for people to remember the beauty of the human spirit, and to confirm its presence as a resource for healing self and others.

Two illustrative examples from survivors I worked with: the first, a young woman age 20, who spent two days under the rubble before being rescued; and the second, a nun in her late 30's, who spent 20 hours under the rubble before rescue. After one group training, and only three individual sessions over three weeks, both had significant decreases in traumatic reactions as measured by the 10-point acute traumatic stress questionnaire (see results). The first survivor (2 days under rubble) used prayer (passages from Isaiah, and Proverbs 3:13-18 "Woman of Valor") for healing between the first and second session.